Welcome to THATCamp SE!
Lunch suggestions for Saturday:
Tech Square is close with multiple options.  Walk north on Fowler to 5th Street (stop when you see the baseball stadium).  The walk over the highway on 5th Street to Tech Square.  Another option is to catch the trolley on the corner of 5th and Fowler.
The Brittain Dining Hall is open and you can reach it by walking down the hill on Bobby Dodd way and turning right.
Directions to get here:
pts.gatech.edu/visitors/Pages/DirectionstoCampus.aspx
For parking, see:
pts.gatech.edu/visitors/Pages/Visitors-Parking-Areas-and-Prices.aspx
For a map of parking, see:
pts.gatech.edu/park/Documents/parking%20map%201213.jpg
Please note that Lot E52 is both close to the Hall Building and offers free parking on the weekend in question.  To get from E52 to the Hall Building you should head south on Fowler Street towards Bobby Dodd Way and Bobby Dodd Stadium.  At the corner of Bobby Dodd Way and Fowler Street you will find the Hall Building.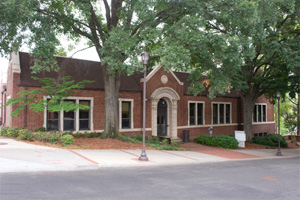 Recommended Hotels:
Hampton Inn Georgia Tech Atlanta – $$$
244 North Avenue Northwest, Atlanta, GA 30313
Georgia Tech Hotel & Conference Center Atlanta – $$$$
800 Spring Street Northwest, Atlanta, GA 30308
Hotel Indigo Midtown Atlanta – $$$$
683 Peachtree Street, Northeast, Atlanta, GA 30308
Options for Food:
@ Tech Square:
Moe's, Tin Drum, Ray's New York Pizza, Waffle House – $
Barrelhouse – $$
The Spence – $$$
In Midtown:
Cypress Street Pint & Plate @Corner of 6th and Cypress – $$
Escorpion @Corner of 5th and Peachtree – $$
Baronda @Corner of 3rd and Peachtree – $$
West Midtown:
West Egg Cafe @1100 Howell Mill Road – $$